A Spirituality for the 21st Century
The (r)evolutionary Creation Spirituality movement – based in ancient Judeo-Christian tradition, supported by leading-edge science, bearing witness for social, environmental, and gender justice, and voiced most powerfully for this generation by spiritual theologian Matthew Fox – is flourishing in the creative and prophetic spirit of our times!
paragraph
"(Matthew Fox's) creation spirituality
is the spirituality of the future
and his theology of the Cosmic Christ
is the theology of the future."
author of The Golden Thread, Christ in India:
Essays Towards a Hindu-Christian Dialogue

paragraph
paragraph
The Cosmic Mass
Returns to Oakland….
See Matthew Fox's account and scroll through the photo gallery from the transformational event led by a new generation of visionary artists, musicians, and dj/vj wizards. Oakland's next Cosmic Mass is slated for February 2014….stay tuned; the date will be announced soon!
paragraph
Pope Francis – A Breath of Fresh Air?
See Matthew Fox's year-end commentary on the new Pope's radical return to Vatican II values and the sensus fidelium, asserting the voice of the faithful over that of the hierarchy…or the moneyed powers.
paragraph
Don't Miss the Groundbreaking New Book
by Matthew Fox and Adam Bucko…
OCCUPY SPIRITUALITY:
A RADICAL VISION FOR A NEW GENERATION (SACRED ACTIVISM)
Now available for order on Amazon.com!
See when Matthew Fox and Adam Bucko will be speaking about Occupy Spirituality in your area: http://www.matthewfox.org/calendar
"A beautiful book with a simple, clear, and profound message for our time."
—David Korten, board chair, YES! Magazine; author ofAgenda for a New Economy
__________________
"Occupy Spirituality is a powerful, inspiring, and vital call to embodied awareness and enlightened actions. 'Spiritual democracy,' as it is called in this book, is necessary … if we are not only to survive as a species on this beautiful, sacred planet, but also to cocreate through our conscious, committed actions a world and planet where all beings thrive together. Thank you Matthew Fox and Adam Bucko for such a wonderful book."
—Julia Butterfly Hill, environmental activist and author of
The Legacy of Luna: The Story of a Tree, a Woman, and the Struggle to Save the Redwoods
__________________
"The dialogue between these two visionary men comes as a fresh, exhilarating wind. It swings wide the doors of our minds and reveals what is surely the most heartening phenomenon of our time. Illumined and honored here are the moral clarity and courage of young activists the world over, as they unmask the deadening abuses of an exhausted civilization. Matthew and Adam help us hear these voices and catch the spiritual power moving through them."
__________________
"Occupy Spirituality brings to the forefront the need for spirituality in our lives and through us in the lives of nations around the world. Materialism and morality, Gandhi said, have an inverse relationship. When one increases the other decreases. The decay in our 'civilization' today is caused by material greed. This may just be the blueprint for the survival of humanity. Everyone must read this book."
—Arun Gandhi,
author of Legacy of Love and The Forgotten Woman;
President, Gandhi Worldwide Education Institute
See more reviews of Occupy Spirituality here…
______________________
People are talking about Occupy Spirituality…
See Dr. Michael Wayne of The Leading Edge interview Matthew Fox and Adam Bucko about Occupy Spirituality, as part of the Quantum Revolution, here
Hear Zoh Hieronimus of 21st Century Radio interview Matthew Fox and Adam Bucko on Occupy Spirituality.
See the Occupy Spirituality Book Club page on Patheos, with articles, excerpts, interviews and reviews, and more.
See Amanda Hester's interview with Matthew Fox and Adam Bucko for the Shambhala Times…and the uncut transcript here.
paragraph
Did You Miss the First Two Christ Path Seminars?
Experience Them Now…or Again…by DVD!
To buy the full recordings of the first two historic weekends, featuring the wisdom of Matthew Fox, Andrew Harvey and guest speakers Joanna Macy and Bruce Chilton, order here. 
And be sure to sign up for the Friends of Creation Spirituality newsletter at right to learn what's next for the Christ Path message….
paragraph
YELLAWE Goes International!
Matthew Fox's groundbreaking program, Youth and Elders Learning Laboratory for Ancestral Wisdom Education (YELLAWE) has passed another milestone.
After expanding to new schools in the Oakland area, and strongly influencing the Chicago Wisdom Project and New York-based Reciprocity Foundation, it has now crossed U.S. boundaries in the form of a workshop by Rose Elizondo, the Creative Arts director of Matthew Fox's AWE Project in Oakland, California.
See the article here….
See Rose Elizondo's story here ….
Discover the books of Wisdom Teaching:
paragraph
Matthew Fox on the Web…
See Matthew Fox and Father Roy Bourgeois interviewed on Democracy Now! about Pope Francis' radical economic message.
Matthew is interviewed on "Background Briefing with Ian Masters," about the Pope's call for reform and a more compassionate church regarding inequality. The program airs live at 5 to 6 PM PST on November 26 and Matthew is on from 5:40 to 6:00 PM . It will be available on the website at ianmasters.com at 6.30 PM or you can hear it live on kpfk.org.
On a free, recorded call hosted by The Shift Network, Matthew shares the core principles of walking the fourfold path of the modern mystic on his free teleseminar: The Fourfold Path of the Modern Mystic: Becoming a Courageously Divine Human. Click to download the recording!
See filmmaker/educator/blogger Antonia Marrero's passionate post in Huffington, on Faces of Moral Courage, with Matthew Fox heading the list…
Enjoy Matthew Fox's dialogue with Sufi mystic Llewellyn Vaughan-Lee on sacred ecology, unity consciousness, spiritual narcissism and bringing reverence for the earth into today's ecological debate: Sacred Activism: Engaging Communities of Faith in Environmental Advocacy.
Bob Hieronimus of 21st Century Radio interviews Matthew Fox The Divine Feminine and Sacred Masculine, Hildegard, Pope Francis, the Cosmic Christ and more, here.
Baruch Zeichner interviews Matthew Fox on his formative experiences, Hildegard, environmental justice, activism and creative anger, and the Christ Path Seminar, on Paradigms, WBKM.org
paragraph
 Have You Read Matthew Fox's Recent Books?
paragraph
 LETTERS TO POPE FRANCIS:
REBUILDING A CHURCH WITH JUSTICE AND COMPASSION
Writing from the depth of 40 years spent witnessing Vatican corruption and authoritarianism, Matthew Fox offers a series of heartfelt letters to the new pontiff about the great challenges facing the church today. Drawing from the deep spiritual and theological sources that have been suppressed since Vatican II, he implores Pope Francis to restore the sensus fidelium (the sense of the faithful) and reshape a church with justice and compassion.
Download your copy of the flyer…and share it with your favorite bookseller!
Editors, reporters, bloggers – see the press releases here
See the latest reviews here  –
Pope Francis rails against the 'globalization of indifference' -  Jason Berry, GlobalPost
…It is unlikely that the handlers around Francis would ever let him get a copy of a book like "Letters to Pope Francis." But there is an Italian edition forthcoming, and the pope who spends afternoons working the phones by himself to dig up information without a paper trail on how to reform the mess of a Roman Curia is surely a man to make his own decisions on what to read.
It is not a stretch to imagine this Francis nodding at certain passages from Fox, a latter-day Jeremiah with his trumpet wailing at the wall.
See Matthew Fox's latest letter to Pope Francis in Tikkun: A Religion of Compassion: A Letter to Pope Francis
paragraph
HILDEGARD OF BINGEN, A SAINT FOR OUR TIMES:
UNLEASHING HER POWER IN THE 21ST CENTURY
Matthew Fox's newest book honors medieval abbess/author/composer/ artist Hildegard of Bingen – a herald of the Divine Feminine, green prophet, and church reformer, newly named a saint and Doctor of the Church….
To mark Saint Hildegard of Bingen's canonization, Namaste Publishing offers a special introductory 35% discount — order here!
See the Namaste Publishing Media Resources page, with summary, table of contents & sample chapter
Hear Matthew Fox being interviewed by Namaste Radio
See Sharon Abercrombie's review in the National Catholic Reporter
See Kathleen D. Clarks' review in Presence, the International Journal of Spiritual Direction.
paragraph
paragraph
THE POPE'S WAR: WHY RATZINGER'S SECRET CRUSADE HAS IMPERILED THE CHURCH
AND HOW IT CAN BE SAVED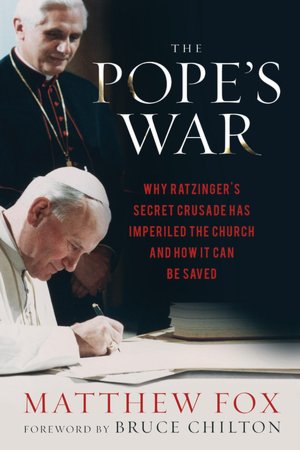 In a New Paperback Edition of The Pope's War, Radical Theologian Matthew Fox Reveals Corruption and Renewal for a Church "200 Years Behind the Times"
"The presence of Matthew Fox in our world today is a blessing on many counts: his indefatigable scholarship, his creative response to the needs of our time, his love of life and passion for justice.
All of these are evident in The Pope's War; but as I reread this clear-eyed report on the plight of the Catholic Church, what strikes me as the greatest gift of all is Matt's sheer courage in telling the truth.
The book blazes with the necessity and power of truth-speaking. And it shines all the brighter in our current political climate, which grows daily more befogged by deception. We are reminded once again that no healing or redemption can happen unless we dare to open our eyes and see where we are.  "
 ~Joanna Macy, author, Active Hope: How to Face the Mess We're in Without Going Crazy
See Andrew Harvey's conversation with Matthew Fox on The Pope's War here.
paragraph
Matthew Fox Provides Expert Media Commentary During and After the Papal Interregnum
After receiving broad media recognition for his long struggle in speaking truth about Vatican power and revealing Papal corruption in The Pope's War: Why Ratzinger's Secret Crusade Has Imperiled The Church And How It Can Be Saved, offered in-depth expert interviews giving context for the the shocking resignation of Pope Benedict XVI, and the new pontiff's historic response to the liberation theology movement and the Argentinian dictatorship, and his membership in the right-wing organization called Communion and Liberation.
His summation? "The corruption the Vatican is in at this time in history is unparalleled, unless you go back to the Borgias of the 16th century. So we'll see if this guy can really clean house or not. But let's not put too much of our energy there. Let's put energy into starting new base communities, a new version of Christianity that really goes back to the Gospels and gets the job done. That's the real issue."
See Matthew Fox's commentaries on the resignation of Pope Benedict XVI and the election of Pope Francis
See more press coverage of Matthew Fox's words and work
paragraph
Take Part in the Growing Work of Creation Spirituality
See Matthew Fox's summary of 2012 news for the Friends of Creation Spirituality in Oakland and abroad…
Discover all that Creation Spirituality is accomplishing in the world…and how you can support!
Order Your Own Scroll of the New 95 Theses!
Friends of Creation Spirituality is pleased to announce that we have printed a limited number of replicas of the original scroll posted by Matthew Fox in his historic protests at Wittenberg and Rome!
Beautifully formatted and clearly printed as heavyweight paper posters or canvas scrolls, they're sized for display in your home or office, dormitory room, church hall or conference center…
…or for nailing at the door of a local cathedral as you join Matthew Fox in your own prophetic protest against religious corruption!
Order here…for your home, your loved ones, your community…
paragraph
CSource News
CSource.com is a resource center hosting workshop series Creation Spirituality education, materials, art and music, on-site and online. Learn more here.
paragraph
Learn everything you need to know to produce the Cosmic Mass in your community.
The Cosmic Mass is a full participation multi-media, inter-generational, interfaith ceremony and dancing celebration that mixes technology with ancient forms of worship such as song and dance. Initiated by priest and author, Matthew Fox, grounded in the four paths of Creation Spirituality, the Cosmic Mass has been celebrated around the world.
In a 7-week teleconference series, Nicole Porcaro will guide participants through the new Cosmic Mass Manual which she co-authored with Matthew Fox. Sign up here to learn more!
Donate Today –                     The Cosmic Mass -                                             YELLAWE