A Spirituality for the 21st Century
The (r)evolutionary Creation Spirituality movement – based in ancient Judeo-Christian tradition, supported by leading-edge science, bearing witness for social, environmental, and gender justice, and voiced most powerfully for this generation by spiritual theologian Matthew Fox – is flourishing in the creative and prophetic spirit of our times!
paragraph
paragraph
paragraph
"(Matthew Fox's) creation spirituality is the spirituality of the future and his theology of the Cosmic Christ is the theology of the future."
— Bede Griffiths, author of The Golden Thread, Christ in India: Essays Towards a Hindu-Christian Dialogue, Marriage of East and West
paragraph
paragraph
paragraph
 Coming Soon: "The Cosmic Christ and tbe Historical Jesus" in the Christ Path Seminar
Our accelerating world crisis demands a revolutionary vision of the Cosmic Christ and a radical, relevant Christianity. In response, (r)evolutionary theologian/author/activist Matthew Fox and author/mystic Andrew Harvey are offering the Christ Path Seminar, a 3-year series of initiatory workshops offering an embodied mystical practice of the Cosmic Christ and a radical, relevant Christianity…now a bold experiment in the emerging Gift Economy!
Are you a spiritual seeker, longing for a richer, deeper, fuller mystical experience that contributes concretely to saving the planet…a world-changing practice of sacred activism?
Are you a churchgoing mystic, bored and/or disturbed by the narrowness of church doctrine and longing for a  living experience of the real Jesus through authentic Christian mystical teaching and practice?
Are you a "recovering Christian," having left the churches but still longing for a deep, direct connection with Jesus and the gospel message?
Are you a spiritual activist, outraged by religious and social corruption and environmental devastation, and longing for a culture that values contemplation, justice, and planetary survival?
If so, you are invited to join in one, two….or all!… of these unique weekend initiations over the next three years.
In a new, organic and highly interactive experience of workshop-as-initiation, you'll receive practical answers in response to the crises of this time: tools to cultivate critical dialogue and creative initiatives for personal and social transformation.
And you'll partake of the wisdom of a stellar lineup of guest speakers including activist and karma yogi Adam Bucko, author/educator Brian Swimme, economic prophet David Korten, healer and spiritual author Carolyn Myss, and more.
Don't miss the second weekend, Cosmic Christ and the Historical Jesus, featuring Bruce Chilton, offered June 28-30 online by live-streaming and on-site at the First United Methodist Church in Pittsburgh, PA. Learn more here.
paragraph
Hear Matthew Fox's Latest Radio Interviews
Bob Hieronimus of 21st Century Radio interviews Matthew Fox The Divine Feminine and Sacred Masculine, Hildegard, Pope Francis, the Cosmic Christ and more, here.
Baruch Zeichner interviews Matthew Fox on his formative experiences, Hildegard, environmental justice, activism and creative anger, and the Christ Path Seminar, on Paradigms, WBKM.org
paragraph
As the World Celebrates Election of Pope Francis,
Matthew Fox Urges Balance
With the election of Pope Francis, first non-European pontiff in 1400 years, Catholics are celebrating the hope of an end to Church corruption. Matthew Fox offers interviews looking at the past history of the new Pope and urging caution to balance the global optimism.
After receiving broad media recognition for his long struggle in speaking truth about Vatican power and revealing Papal corruption in The Pope's War: Why Ratzinger's Secret Crusade Has Imperiled The Church And How It Can Be Saved, Fox considers the new Pope in the context of his response to the liberation theology movement and the
Argentinian dictatorship, and his membership in the right-wing organization called Communion and Liberation.
His summation? "The corruption the Vatican is in at this time in history is unparalleled, unless you go back to the Borgias of the 16th century. So we'll see if this guy can really clean house or not. But let's not put too much of our energy there. Let's put energy into starting new base communities, a new version of Christianity that really goes back to the Gospels and gets the job done. That's the real issue."
See Il Manifesto's interview with Matthew Fox on Pope Francis here
See Matthew Fox's commentary on the new pope here
See his interviews on the resignation of Ratzinger and the papal election here
See reviews of The Pope's War – now expanded and updated in paperback!
See more press coverage of Matthew Fox's words and work
paragraph
Take Part in the Growing Work of Creation Spirituality
See Matthew Fox's summary of 2012 news for the Friends of Creation Spirituality in Oakland and abroad…
Discover all that Creation Spirituality is accomplishing in the world…and how you can support!
Order Your Own Scroll of the New 95 Theses!
Friends of Creation Spirituality is pleased to announce that we have printed a limited number of replicas of the original scroll posted by Matthew Fox in his historic protests at Wittenberg and Rome!
Beautifully formatted and clearly printed as heavyweight paper posters or canvas scrolls, they're sized for display in your home or office,  dormitory room, church hall or conference center…
…or for nailing at the door of a local cathedral as you join Matthew Fox in your own prophetic protest against religious corruption!
Order here…for your home, your loved ones, your community…
paragraph
Don't Miss Matthew Fox's Newest Books…
paragraph
NOW AVAILABLE FOR PRE-ORDER – Coming in September 2013…
OCCUPY SPIRITUALITY:
A RADICAL VISION FOR A NEW GENERATION (SACRED ACTIVISM)
by Matthew Fox and Adam Bucko "A beautiful book with a simple, clear, and profound message for our time." —David Korten, board chair, YES! Magazine; author of Agenda for a New Economy
Now available for pre-order on Amazon.com!
The Forum at Grace Cathedral — The Rt. Rev. Marc Andrus; The Rev. Dr. Matthew Fox; and Adam Bucko from DioCal on Vimeo. Viewed best in full screen; wait for buffering…
paragraph
HILDEGARD OF BINGEN, A SAINT FOR OUR TIMES:
UNLEASHING HER POWER IN THE 21ST CENTURY
Matthew Fox's newest book honors medieval abbess/author/composer/ artist Hildegard of Bingen – a herald of the Divine Feminine, green prophet, and church reformer, newly named a saint and Doctor of the Church….
To mark Saint Hildegard of Bingen's canonization, Namaste Publishing offers a special introductory 35% discount — order here!
See the Namaste Publishing Media Resources page, with summary, table of contents & sample chapter
Hear Matthew Fox being interviewed by Namaste Radio
See Sharon Abercrombie's review in the National Catholic Reporter
Browse the powerful fall issue of the Namaste e-zine featuring Matthew Fox, Marianne Williamson, Starhawk, John Shelby Spong & more!
paragraph
THE POPE'S WAR: WHY RATZINGER'S SECRET CRUSADE HAS IMPERILED THE CHURCH
AND HOW IT CAN BE SAVED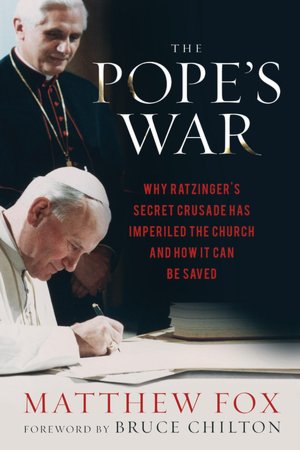 In a New Paperback Edition of The Pope's War, Radical Theologian Matthew Fox Reveals Corruption and Renewal for a Church "200 Years Behind the Times"
"The presence of Matthew Fox in our world today is a blessing on many counts:
his indefatigable scholarship, his creative response to the needs of our time,
his love of life and passion for justice.
All of these are evident in The Pope's War;
but as I reread this clear-eyed report on the plight of the Catholic Church,
what strikes me as the greatest gift of all is Matt's sheer courage in telling the truth.
The book blazes with the necessity and power of truth-speaking.
And it shines all the brighter in our current political climate,
which grows daily more befogged by deception.
We are reminded once again that no healing or redemption can happen
unless we dare to open our eyes and see where we are.  "
 ~Joanna Macy, author, Active Hope: How to Face the Mess We're in Without Going Crazy
paragraph
paragraph
See Andrew Harvey's interview with Matthew Fox on The Pope's War here.
paragraph
paragraph
paragraph
paragraph
paragraph
CSource News
CSource.com is a resource center hosting workshop series Creation Spirituality education, materials, art and music, on-site and online. Learn more here.
paragraph
Become a Wisdom Teacher in the YELLAWE tradition.
Do you feel that our educational system focuses too much on test scores? Do you feel that our educational system is too rigid and mechanistic, with little room for exploration & creativity? Are you looking for an alternative that addresses the whole person?
Learn to become a Wisdom Teacher in a 5-week teleconference series led by Theodore Richards, former director of YELLAWE in Oakland and founder and director of the Chicago Wisdom Project, based on YELLAWE principles.
The course will meet on Thursdays for five weeks, from May 2 – May 30, 2013, by teleconference. (Class participants also may decide to hold an optional in-person nature retreat at the end of the course, modeled on the retreat the Chicago Wisdom Project holds for its students).
Registration begins in February 2013. Sign up here to learn more!
paragraph
Learn everything you need to know to produce the Cosmic Mass in your community.
The Cosmic Mass is a full participation multi-media, inter-generational, interfaith ceremony and dancing celebration that mixes technology with ancient forms of worship such as song and dance. Initiated by priest and author, Matthew Fox,  grounded in the four paths of Creation Spirituality, the Cosmic Mass has been celebrated around the world.
This summer, in a 7-week teleconference series, Nicole Porcaro will guide participants through the new Cosmic Mass Manual which she co-authored with Matthew Fox.  Sign up here to learn more!
 Matthew Fox's Recent Books
paragraph
CHRISTIAN MYSTICS: 365 READINGS AND MEDITATIONS
paragraph
"One of the best Spiritual Books of the Year 2011″
– Library Journal
"Christian collections will find this inspirational and unusual"
– Midwest Book Review
"An antidote for the many vapid, non-challenging spiritual devotionals
we see today."
–Denis J. Dunn, UCC Minister
paragraph
paragraph
THE HIDDEN SPIRITUALITY OF MEN: TEN METAPHORS TO AWAKEN THE SACRED MASCULINE
paragraph
"Every man on this planet should read this book —
not to mention every woman who wants to understand the struggles,
often unconscious, that shape the men they know."
— Rabbi Michael Lerner
"A wake-up call to shake us free from old stereotypes of masculinity,
this book is good news."
— Joanna Macy
paragraph
New Book Translations
Click Here to read the International Responses to The Pope's War
Donate Today –                     The Cosmic Mass -                                             YELLAWE